Company Profile
South Coast Standing Stem Ltd. (SCSS) formed in early 2006, has a depth of experience within its management, staff and professional crews that averages in excess of 15 years experience within the "Alternative Harvesting" timber business. The owner of the company, Gord Closson, has a wealth of knowledge within Standing Stem and other alternate harvesting techniques. Since 1994 he has been conducting "hands on work" such as topping, limbing, pruning, stem preparation, jacking, handfalling, as well as managing large, efficient, quality focused, safe crews involved in the manufacturing of trees within Patch Cuts, Group Selections, Standing Stem and Diamond Picking for ground, cable and aerial harvest systems. His commitment to safety and quality is second to none, exemplified by the company's accomplishments to date.
Strategic Alliances and Affiliates
SCSS is also able to offer a wide variety of additional services to prospective clients for works such as cut block layout, logging and supervision. The logging services provided can be full phase stump to dump logging if required.
Our Focus
We are primarily focused upon the preparation of trees, either manufacturing trees as a Standing Stem, directionally falling (or jacking) of the trees, and wind proofing the resultant timber edges of the harvest area. The present workforce consists of 19 individuals involved in the preparation of Standing Stem, 9 individuals who conduct wind firming and tree climbing activities.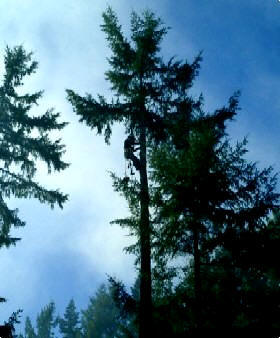 These crews are able to consistently manufacture about 15,000 m3 of wood per month. They are self sufficient, having all the necessary vehicles, tools and equipment to conduct the various projects at each worksite, whether the job is road accessed or located within a remote camp location.